About Us
Hunter Farms Nursery is a wholesale grower of  trees, shrubs, and natives. With about 70 out of 100 acres in production we offer field dug B&B, all the way down to 1 and 2 gallon containerized.  We provide a rewholesale service – if we dont have it in stock we will get it for you in time for the project. We do whatever we can to try to be a one stop shop for all of your job needs.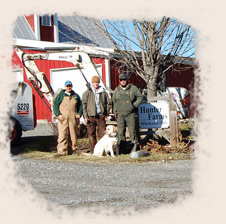 At Hunter Farms, we take pride in our success of Summer digging ability and have the best survivability rate. If you need large 6" + trees for a project, we have them and can install them for you.
Our inventory is constantly changing – if you don't see it as being available, please call and we'll check our inventory. If we don't have it in stock, we'll do our best to try and find it at another one of our wholesale nursery sources. We also have one of the lowest local delivery cost in MD. Hunter Farms works closely with county and state inspectors to provide subs and ensure it is the right tree for the right place BEFORE it arrives at the job site.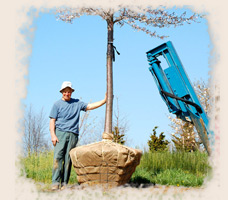 Have a landscape architect plan? Bring it to us and we will find everything you need for that job, saving you hours of time and and fuel cost. If you have a large project that may be several months or even years away, give us the list and with a signed contract we will grow it all just for that job.
We use recycled wood chips in our holding area. When they need to be freshened up, we push the old chips into a pile until they're well composted and then spread them into the field – recycling everything organic for efficient no waste operation.